Finding the ideal hairstyle that combines a balance between elegance and comfort might be difficult when attending a wedding as a guest. Do not worry if your hair is short and shoulder length. In this article, we'll show you a variety of quick, gorgeous shoulder-length hairstyles that can make you stand out as a wedding guest. These hairstyles are easy to make and go with various outfits and tastes. Get ready to rock your short shoulder-length hair with confidence and style!
What is the best hairstyle for a wedding guest?
Glamorous curls or waves are a fantastic choice for wedding guests. They add a touch of romance and softness to the overall look, enhancing the natural beauty. This hairstyle exudes elegance, whether you opt for loose, beachy waves or more defined curls. It complements a variety of dress styles, making you feel glamorous throughout the wedding celebration.
How do you put short hair up for a wedding?
Apply a texture-enhancing styling product to short hair before styling it for a wedding. Make a portion of the hair, twist each portion towards the centre and pin it in place. For a softer look, gently loosen and tweak the twists.
How do you style easy shoulder-length hair?
Start by misting a heat protectant spray over shoulder-length hair before styling it easily. To make polished strands, use a straightener. For a chic asymmetrical style, part your hair to the side and tuck one half behind your ear.
How to do a messy bun for wedding short hair?
Hold your hair in a loose, messy ponytail at the nape of your neck; do not yet secure it with an elastic. With the other hand, twist the ponytail into a bun shape; secure it with pins. Tousle the hair on top, and leave out a few short pieces in front for an unfussy bedhead appearance.
Create a soft, romantic updo by twisting and pinning sections of your hair. Start by parting your hair on one side and gathering the hair on the opposite side, securing it with bobby pins at the nape of your neck. Take small sections of hair from both sides, twist them, and pin them together in the middle, creating a lovely twist. Continue this process until all your hair is curled and pinned, resulting in an elegant updo that exudes romance and charm.
Try the side-swept style for an effortlessly gorgeous look. Start by creating a side part in your hair and adding loose curls all over using a curling iron. All of your hair should be parted on the other side, and the nape of your neck is an excellent place to fasten it with bobby pins. For a gorgeous, red carpet-worthy appearance, let a few free curls frame your face.
If you have a bob hairstyle, use its organic texture for a stylish, contemporary appearance. Apply a texturizing spray to damp hair and scrunch it with your hands before styling. To enhance the waves or curls in your hair that are already there, put a diffuser attachment on your blow dryer. After drying, use a curling iron in random places to give the waves more dimension.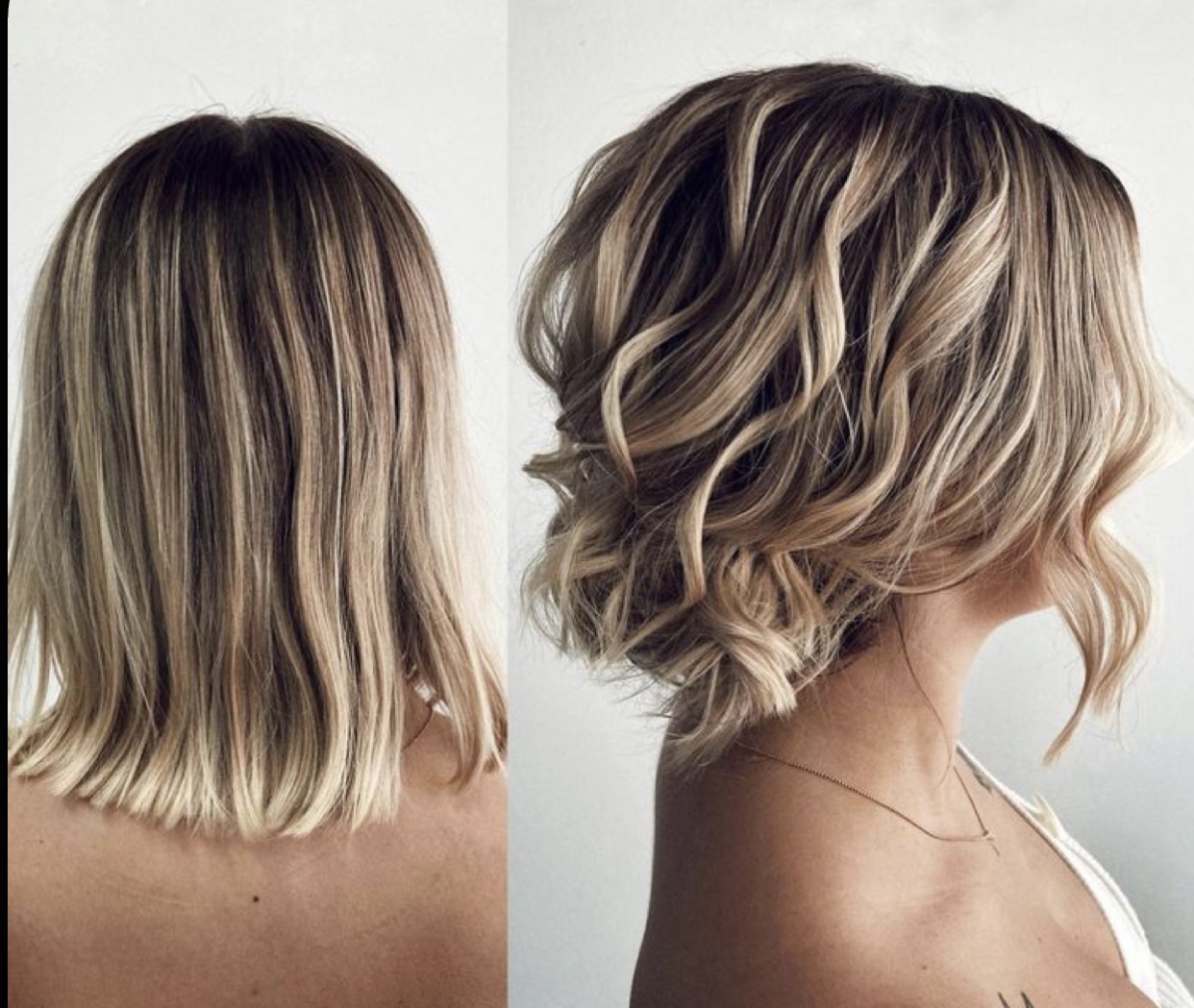 Choose a half-updo for a classy and classic hairdo—section off the top portion of your hair by dividing it horizontally. At the back of your head, twist the entire piece of your hair and fasten it with bobby pins. Include a delicate hair accent, like a sparkling hairpin or a little flower, to add elegance. Permitting the remaining hair to fall freely will provide a lovely contrast between the updo and the flowing locks.
Add a bohemian flair to your shoulder-length short hair with a braided hairstyle. Create a deep side part and choose a section of hair near the parting to braid. French braid the area, starting at the hairline and working your way down. Secure the end of the braid with a clear elastic band. Leave the rest of your hair or enhance the look by adding loose waves for a romantic, ethereal feel.
Wedding guests looking for stylish and carefree looks will love these simple shoulder-length short hairstyles. These designs offer variety, guaranteeing you may pick the ideal hairdo for your outfit and personal style. You will attract attention and exude confidence as you celebrate the happy event with these gorgeous selections.